Unregistered users may browse the website, but in order to participate in the forums a user account is required. Click HERE to email the webmaster and request an account. The National DeSoto Club uses real names rather than pseudonyms. Notify the webmaster of your user name preference (Johnathon Doe, John Doe, etc) and password request.
What did you do with your DeSoto Today?
@william-voitier what CAD software are you using? I'd be interested to see how your lenses turn out and what materials you use to print with.
Posted : April 16, 2020 4:50 am
I am working with someone who reproduces classic car parts like this for a living. The company is called HV3D. Not sure what software is being used. The final product will be printed with a clear plastic, colored red and have a UV resistant coating put on. It is possible to print them and make a silicon mold to make them near OEM but unless there are about 20 orders they would be several thousand to make a pair. As it is it will still be expensive, but where else can I find them?
Posted : April 16, 2020 5:06 am
@william-voitier there used to be a guy in Austrailia, but I doubt he will ever be making lenses again due to his health. I did receive this business card recently - he may be making them also.
Good luck on the 3D printing and I'd love to see the final results.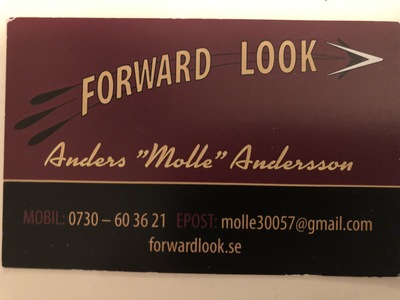 Posted : April 17, 2020 4:41 am
@davidfrank I came across George Laurie in my research. Found a post online some where that he had a stroke a few years back. Thanks for the business card. I'll shoot them an email. Maybe I'll get lucky. If not I'll just have to get a side job just to afford tail lights. Haha.
Posted : April 17, 2020 4:55 am
BIG excitement this weekend!  With C-19 quarantine fever running rampant, I took advantage of the beautiful weather and drove to the next county for an exercise run and to top off the tank with non-ethanol gas.  There is so little to do these days that my wife stopped her chores and jumped in the '55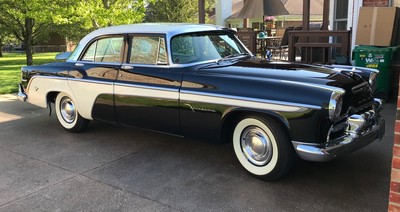 for a ride!  That hasn't happened, i.e., just to ride for a ride's sake, in years!  Another unintended consequence of C-19!
Mark
Posted : May 11, 2020 10:57 pm
A local drive in theater hosted classic car night on June 20.  In addition to classic cars, classic movies were also on the agenda.  The first feature was American Graffiti followed by Bullitt.  A large group of our fellow AACA Region members attended.  It was fun to get out of the house and interact with our friends.

Posted : June 22, 2020 12:02 am
@markkubancik very cool! We have one here about 45 minutes away that I have been to before, but need to get back with my DeSoto sometime.
Posted : June 22, 2020 7:30 pm
With a few days off around July 4 and little else to do thanks to C-19, and with the help of two local club buddies, we attended to some long-neglected maintenance on the '55.  My buddy Fred as an air-conditioned shop at his rural compound with an electric/hydraulic lift.  What a pleasure to work on the car on a lift!  Another club friend Neal helped with replacing front wheel bearings and seals and replacing a leaky real wheel seal.  We then replaced 40-year old rubber brake hoses
which led to the replacement of one of the metal lines from the front junction block.  Luckily Fred had brake line stock, fittings, and a flaring tool at his shop.  After all that, on the next day we installed new rear leaf springs purchased last year from ESPO Spring.  Then bled and adjusted the brakes, rotated tires, and changed oil & filter.  A couple long days but hopefully good for many more miles of cruising.
Mark
Posted : July 6, 2020 2:55 am
After all that work a couple weeks ago, drove the '55 to Lagrange KY for their first monthly car cruise in a long while.  Cars park on the main drag where an active train track runs through the center of town.  It was a beautiful night, but on the way there my left front wheel started grabbing as if a wheel cylinder was leaking.  Rather than chance it on the way home, I left it at a buddy's (green '41 Dodge) house who lives in Lagrange and he drove us home in his modern car.
We tore into it the next day and sure enough the wheel cylinders were moist.  I ran home, got parts, and we installed two new cylinders on the LF and checked the RF to ensure they were dry.  Gave us a chance to test the new Ammco Brake Gage tool found on Craigslist.  It worked as designed to properly fit the shoes to the drum.
With all this work done on the call, I keep reminding myself of what Tim says: Remember, it's supposed to be fun!
Mark
Posted : July 28, 2020 4:29 am
@markkubancik  you found a brake tool on Craigslist?   Lucky!!
It's supposed to be fun!
1949 De Soto Custom Convertible (project)
Posted : July 28, 2020 1:08 pm
@timbowers Yep, search CL occasionally using Search Tempest and search for DeSoto.  Guy in Albuquerque had the tool listed.  Great guy, kept in contact and followed through.  Always a risk when dealing with CL out of state but this time we lucked out.  Was below eBaY price but was still a hefty price.  Sharing with several other local club members who are eager to use this tool.
Mark
Posted : July 28, 2020 7:01 pm