Unregistered users may browse the website, but in order to participate in the forums a user account is required. Click HERE to email the webmaster and request an account. The National DeSoto Club uses real names rather than pseudonyms. Notify the webmaster of your user name preference (Johnathon Doe, John Doe, etc) and password request.
What did you do with your DeSoto Today?
I drove my 1952 to downtown Ypsilanti last Thursday evening for the Season-first "Depot- Town Car show".  Here it is nestled between two vintage Thunderbirds.  A lot of fun activities!  I could have won free ice cream if I had entered the hula-hoop competition, but I thought better of it.  I went for a cold beer at the local brew-pub instead.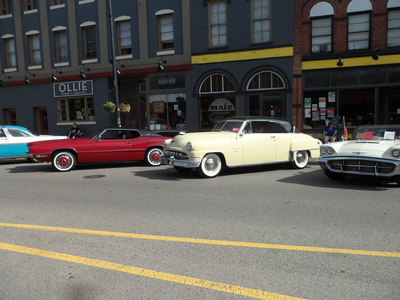 Brent Jacobsen
Owner of a 1952 Desoto Firedome
Posted : June 11, 2019 3:23 am
Well, not today, but last weekend, a friend of mine and I rebuilt the front brakes on my 41 DeSoto (for the 3rd time). Master cylinder, wheel cylinders and new front shoes.  Rear brakes seem to be working fine.  Then we dropped the fuel tank, cleaned and painted the metal in the area above where the fuel tank mounts with POR 15, installed a new flexible line from the pump to the frame mounted steel line. Adjusted the brakes and clutch as best we could without test driving (no fuel tank).  We then went hunting for some fittings and some rubber to use as mounting cushions for the tank when reinstalled.  And then, we ran out of time!  It was dirty, greasy and hard work, but it was fun and a learning experience.
Isn't that the way it always works?  Work will continue in a couple of weeks when our schedules permit!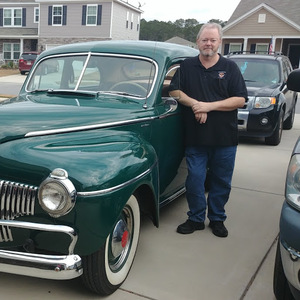 Dean Mullinax
1941 DeSoto Deluxe 2 Door Sedan
It's Delightful, It's DeLovely, It's DeSoto!
Posted : June 19, 2019 11:32 pm
Today, My 1952 DeSoto visited the "Wings and Wheels" car and vintage aircraft show at the Willow Run Airport.  The show is a fund raiser for the Yankee Air Museum, which preserves and maintains a section of the WW II Ford B24 Bomber plant and many vintage aircraft.   There were two Hudson Terraplanes at the show, but only one DeSoto.  Here is a photo of the local "Rosies" Booster club making a muscle pose in front of it.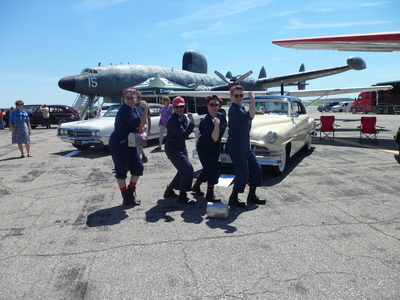 Brent Jacobsen
Owner of a 1952 Desoto Firedome
Posted : June 24, 2019 12:59 am