Unregistered users may browse the website, but in order to participate in the forums a user account is required. Click HERE to email the webmaster and request an account. The National DeSoto Club uses real names rather than pseudonyms. Notify the webmaster of your user name preference (Johnathon Doe, John Doe, etc) and password request.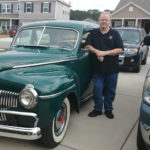 Joined: September 22, 2011 3:28 pm
Last seen: May 4, 2022 1:07 pm
I currently have a 1941 DeSoto Deluxe 2 door sedan and a 1937 DeSoto 4 door Touring Sedan. I also have owned quite a few other DeSotos over the years including several 55 Fireflites, a 51 Custom convertible, and a 57 Fireflite Explorer station wagon. I have been a member of the NDC since about 1992, I was on the board of trustees for about 14 years and was President of the club for 3 years along with various other positions. I also hosted the 1999 convention in Charleston, SC. If I can ever be of assistance please let me know!
Dean Mullinax
1937 4 door Touring Sedan
1941 DeSoto Deluxe 2 Door Sedan
It's Delightful, It's DeLovely, It's DeSoto!