35th Annual Convention
Rescheduled dates: July 28 - August 1, 2021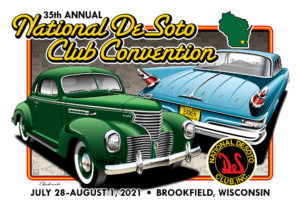 Convention details for 2021
***5/11/2021: The Convention is officially planned to proceed! Continue to check back here for updates and be sure to get hotel reservations made, which can be cancelled up to 72 hours out from the event.***
The host hotel is the Sheraton Milwaukee Brookfield located at 375 South Moorland Road, Brookfield, Wisconsin, which is about 15 minutes straight west of Milwaukee and is literally on the north side of I-94. The Sheraton has hosted many other car clubs and has ample flat parking for cars, trucks, and trailers. We will have our own designated sections of the parking lot and a complimentary car wash station available. The hotel also has both an indoor and outdoor pool, a fitness center, and a restaurant. The hotel is also right next to Brookfield Square, which is a huge indoor shopping mall with many different stores and restaurants, though there is still enough distance between to keep privacy for the DeSotos from the shoppers. The hotel also offers a complimentary shuttle anywhere within 5 miles of the hotel.
The special room rate for the club is $109/night plus standard taxes and fees for either a single king with a pull-out sofa or two double beds – no queen beds are available at this hotel. Reservations with an occupancy exceeding two adults is subject to an additional $10/adult/night. Rates are applicable for up to three nights before and after the convention and a limited number of roll-away cots are available for an extra charge if needed ($10/night for adults, $5/night for kids). Breakfast is not included, however there is an in-hotel restaurant, many restaurants in the surrounding area to choose from and a refrigerator in every room. To make a reservation now (highly recommended), you can use the link on the club website main page (www.desoto.org) or call (262) 364-1100 and make sure to mention the National DeSoto Club (mini code "DSO" may be required). Cancellations may be made up to 72 hours prior to the check-in date. For any issues with reservations or special requests, please contact Dick Bradley at richard.bradley@marriott.com.
On Wednesday, July 28, the hospitality room will be open for the majority of the day to get everyone registered as you arrive. For those that arrive earlier, I plan to put together a list of suggested "do-on-your-own" tours that you can do individually, as a group, or feel free to do something entirely different! If you would like suggestions or personal opinions in advance on other tours in the area, feel free to ask. This day will be completely up to you until the evening welcome social, which is the first "official" event. This will start around 5 PM and is a short 3 mile drive down the road to the Milwaukee Lionel Club where they have graciously agreed to host our club. There will be plenty of parking available for your cars and dinner will be provided at a minimal cost. Their model train layout and displays are very well done and I think this will be enjoyable for most everyone, especially the kids. Many of their members also have old cars, so they will definitely enjoy seeing the DeSotos. Capacity inside is limited, so in the event of rain, the group may have to be split up into a couple sections to accommodate indoor capacity limitations. For fair weather, we will all be in one group and utilize the outdoor parking lot as well. In the event that you are late in arriving and the group has already departed from the hotel, the Milwaukee Lionel Club's address is 2721 S Calhoun Rd, New Berlin, WI 53151.
On Thursday, July 29, we will tour downtown Milwaukee via bus. The day will start with the Harley-Davidson Museum, which is an excellent two-level (elevator accessible) building highlighting the Harley-Davidson motorcycle and focusing on its history all the way through the current year. The first thing that will greet you as you enter is one of almost every year Harley-Davidson motorcycle produced lined up – it's quite the sight. Moving along, there are many smaller displays for the incredible efforts of the founders to help the company grow and succeed, survival through the depression, Servi-Cars, racing history, advertisements and memorabilia, and much more. There are also interactive exhibits where you can try sitting on a variety of new and old motorcycles and they even have a children's area where they can pretend to be a biker! For more information, visit https://www.harley-davidson.com/us/en/museum.html or call 877-436-8738.
Lunch will be on-site at the Harley-Davidson Museum and will be a gourmet sandwich and salad table that includes hot ham and swiss sandwiches, warm roasted sirloin of beef, smoked turkey breast sandwiches, "ZLT" wraps (z stands for zucchini), Caesar salad, corkscrew pasta salad, fruit salad, kettle-style potato chips, and a soda or water. For any special dietary needs, please contact me ahead of time so I can make the necessary arrangements.
After lunch we will visit the beautiful three-story (elevator accessible) Pabst Mansion, which was completed in 1892 and was the retirement home to Captain Frederick Pabst (of the Pabst brewery) and his family until 1908 when their descendants sold the house, where it became the archbishop's residence for more than 67 years. When it was sold in 1975, it was nearly torn down to build a parking lot for a neighboring hotel but was finally placed on the National Register of Historic Places in 1975 and opened to the public in 1978. Complete with copious amounts of fine details, hidden compartments, and many fascinating stories, this mansion has a lot to offer. Though the house is currently in great condition, it is undergoing continuous restoration efforts and they are constantly regaining items that had been kept by the descendants when it was sold in 1908, such as priceless paintings, furniture, etc. This is a must-see for anyone that loves architecture, antiques, beer, or history. For more information, visit https://www.pabstmansion.com/ or call 414-931-0808.
Our last notable stop will be Sprecher Brewery, which was Milwaukee's first craft brewery since prohibition. Sprecher produces an assortment of beers, flavored malt beverages, and fire-brewed craft sodas and is quite popular in and around Wisconsin. On this tour, everyone will get to learn about and see the beer and soda-making process, as well as how locally involved the company is with the surrounding communities. Adults 21 and over (ID required!) may sample up to four different alcoholic beverages before, during, and after the tour and everyone may sample unlimited sodas (I definitely recommend you try their root beer!). Adult samples come with a complimentary souvenir glass that you can take home. This building is one level and the tour is a short distance on a very accessible walking path. For more information, visit www.sprecherbrewery.com or call 414-964-7837.
After satisfying your taste buds with some delicious beverages, sit back and relax while you take in some of the significant sights, buildings, and history of downtown Milwaukee. The city is rich in architecture and history, especially regarding manufacturing, beer, and European influence. If the weather is conducive, there will also be a brief stop at the beautiful Calatrava Milwaukee Art Museum on the shore of Lake Michigan, which is one of my personal favorite parts of Milwaukee. The day will conclude with the general membership and board meetings in the evening.
Friday will be a driving tour, which will be a total of approximately 65 miles covered throughout the day. Departing the Sheraton, the group will be split into two and will go to one of two locations. One destination is the East Troy Electric Railroad, which has been in continuous operation since 1907 when it was also the only form of public transportation in the East Troy area. Today, it is the last surviving remnant of The Milwaukee Electric Railway & Light (TMER&L) interurban rail system, which once operated over 200 miles of track in Southeastern, Wisconsin. In addition to riding on a vintage trolley or interurban car, the stop at the Mukwonago end of the track will allow you to either shop at the Elegant Farmer, which sells fresh produce and baked goods, or else tour the maintenance facility. Back at the East Troy end, you can check out the small railroad museum and the car barn will be open for viewing of other equipment. Before heading out, a quick stop inside J. Lauber's Ice Cream Parlor next door is also worth a visit. Owned by a train and Studebaker enthusiast, the old-fashioned ice cream parlor is a step back in time, complete with authentic dress and equipment obtained from Wisconsin parlors that closed over the years. Between the buildings, trolleys, DeSotos, and the ice cream parlor, you'll feel like you've stepped into the 1950's and is sure to be a favorite with kids and adults alike! For more information, visit https://www.easttroyrr.org/ or call 262-642-3263.
The other destination of the day is Old World Wisconsin where the feeling of time travel continues. Opened in 1976, there are over 60 historic structures ranging from ethnic farmsteads with furnished houses and rural outbuildings, to the Crossroads Village with its traditional small-town institutions such as a blacksmith, church, school, and general store. Piece by piece, workers painstakingly dismantled all these structures by numbering bricks, boards, and logs, and moved them to the site of Old World Wisconsin where they were reassembled on 600 acres of rolling prairies similar to what the first pioneers found. You'll see a lot of Wisconsin's ethnic heritage represented in the Scandinavian Homesteads and Life on the Farm settlements, which collectively reflect Finnish, Danish, Norwegian, Polish, and German immigrants. Costumed staff help complete the authentic experience by doing tasks typical of each building, talking about the history, and hands-on experiences, especially for the kids. Though the property is large and you should definitely be prepared for walking, there are free shuttles operating all day with multiple stops for the larger distances between sites. Many buildings in the Crossroads Village are reasonably close together. For more information, including a site map, visit https://oldworldwisconsin.wisconsinhistory.org/ or call 262-594-6301.
Lunch between the driving tours will be on your own at Gus's, a '50's-themed hamburger and frozen custard stand. Friday will end back at the hotel with the evening social event, including frozen custard (in place of the standard ice cream), which is being graciously sponsored and served by the Great Lakes Chapter. Additionally, there will be an indoor, clean parts and memorabilia swap meet during the social. Please be sure to indicate on your registration how many 6-foot tables you expect to use. We are also planning to revive the model contest, which can include buildings, cars, etc. that are DeSoto-related, with separate classes for adults and kids – see registration form on page one to sign up! Plans are in the works to arrange a few seminars for the adults and a (DeSoto) coloring contest for the kids; more details to come. Finally, if there is one thing we can recommend to complete your Friday Wisconsin experience, it will be to go find a local Friday night Fish Fry, which is a very common and popular Friday tradition in Wisconsin.
On Saturday we will have the car show at a TBD location with the intention of having shade and grass. Food and music will be arranged to be on-site and we have been working with other local (especially Mopar) groups and individuals to bring their old cars to display when they come spectate, which will be a separate area from the DeSoto show. In the event of rain or wet ground at the park, we will default to the hotel parking lot. As always, we are looking for volunteers to judge. If you are interested in judging, please indicate this on the first page of the registration form. That said, I would like to encourage everyone to bring their DeSoto in whatever condition it is in and you do not have to have your car judged! There is a class specifically for "Diamonds in the Rough" and as long as it can drive onto the show field, we want to see it! For any questions specific to the judging process, please contact Chief Judge Mark Kubancik (mark.kubancik@gmail.com). Kids will also have a chance to do their own judging with the Hagerty-sponsored Youth Judging. The evening will conclude with a social hour with a cash bar followed by our dinner awards banquet and ceremony. A children's dinner option and pricing will be available.
Sunday morning will be a farewell breakfast buffet in a private room as a last opportunity to talk with friends, both old and new, before hitting the road home. If you wish to participate, please indicate such on the registration form and there is a cost for this. Additionally, you are more than welcome to hang around the Milwaukee area and continue sight-seeing a while longer. One event I would like to specifically point out that is occurring on that Sunday, August 2, is the Illinois Railway Museum's HUGE Vintage Transport Extravaganza Show, which is just over the state line in Union, Illinois, about an hour and a half from the hotel. Our family goes to this every year we are able to and it is overwhelming how much there is to see and do. In addition to a car show that is sorted by each major brand, they also have all their buildings open for display and usually about 5 or so vintage pieces of equipment running, including interurbans, a steam engine or diesel passenger train, and street cars, all included for one very reasonable admission price! This is one of my favorite museums by far and could not be any better of an opportunity for train enthusiasts! For more information, visit www.irm.org or call 815-923-4391.
The convention shirts, which are priced on the registration form, are an exciting and colorful two-sided pre-shrunk cotton t-shirt. However, the most exciting news for this year is the addition of a ladies fit t-shirt! Please note that the ladies shirt dimensions are different then the men's shirt dimensions. If you have specific sizing questions, please contact me. I think the designs look great and I hope you'll agree!
That should cover most of the details needed for everyone to start making their plans to attend. If you have any questions or issues, don't hesitate to contact me at 262-745-8161 or desoto2020@outlook.com.
David Frank, 2021 Convention Chairman
Colonial Chapter Displays at AACA Museum
November 15, 2019 - April 26, 2020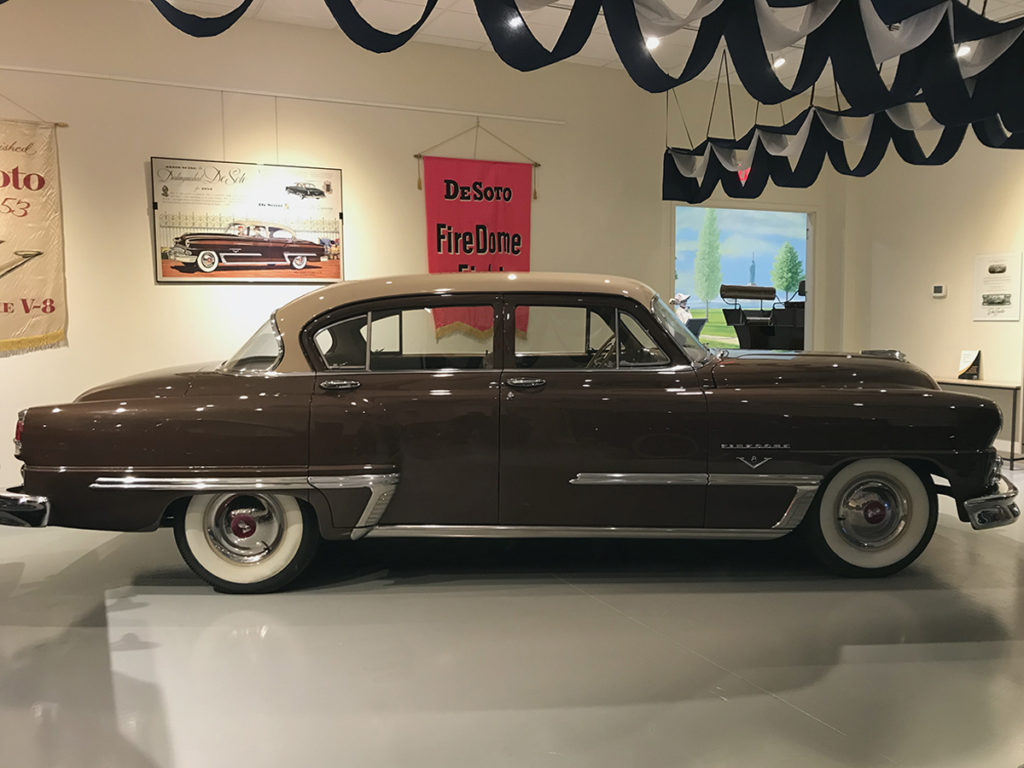 The Colonial Chapter of the National DeSoto Club, Inc. has been given the opportunity to display automobiles and memorabilia at the Antique Automobile Club of America (AACA) museum in Hershey, PA. Three DeSotos were provided: a 1930 Model CF owned by Diane Boettger, a 1953 Firedome owned by Frank & Lanette Peiffer, and a 1960 Fireflite owned by Steve Cooper. In addition, show room banners, models, magazine ads, dealer items, and other memorabilia were provided.
For more information, visit https://www.aacamuseum.org/exhibit/desoto/
Spring Charlotte AutoFair
Charlotte Motor Speedway, North Carolina
**Spring 2021 AutoFair has been cancelled due to COVID-19**
Next scheduled AutoFair: September 9-11, 2021
The Carolina Chapter of the National DeSoto Club, Inc. will have cars on display at the Charlotte AutoFair. For information about the chapter, the event, or how to participate, contact Dean Mullinax at (843) 224-3165 or desotodean@gmail.com.