Unregistered users may browse the website, but in order to participate in the forums a user account is required. Click HERE to email the webmaster and request an account. The National DeSoto Club uses real names rather than pseudonyms. Notify the webmaster of your user name preference (Johnathon Doe, John Doe, etc) and password request.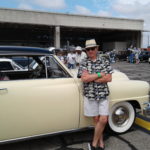 Joined: June 29, 2015 11:19 am
Last seen: September 20, 2021 11:43 am
I Retired from Ford Motor Company in 2012, and I am a lifelong student of the history of automotive technology. My wife Pat and I own a 1952 DeSoto Firedome Sportsman 2-door hardtop. We live in suburban Ann Arbor, Michigan.
Retired Automobile Engineer
Brent Jacobsen
Owner of a 1952 Desoto Firedome