Unregistered users may browse the website, but in order to participate in the forums a user account is required. Click HERE to email the webmaster and request an account. The National DeSoto Club uses real names rather than pseudonyms. Notify the webmaster of your user name preference (Johnathon Doe, John Doe, etc) and password request.
1959 Firesweep 4 door sedan
Dad was a DeSoto-Plymouth dealer in Beaverton, MI from 1946 till 1961 when he picked up the Chrysler line. In late 1958 he had a '59 Firedome 4 door sedan just about like my Firesweep color and all.
I saw this Firesweep advertised 3 years ago or so but refused to buy it for quite some time. The owner and my son bargained and a happy medium was struck as my son was buying it for me mainly to duplicate the one Dad had. The Firesweep was a two owner car at the time with only 21,000 miles and in near mint factory original condition with one repaint in the original colors.
Currently the car has 23,500 miles and all I have to do is maintenance. Everything is just about like new. I did add the wire wheels for a more elegant look. I enjoy this automobile immensely and certainly take pride in talking about it to others, several of whom don't know DeSotos existed.
"It's delightful, it's delovely, it's DeSoto"
"It's delightful, it's delovely, it's DeSoto"
Posted : July 8, 2017 6:54 pm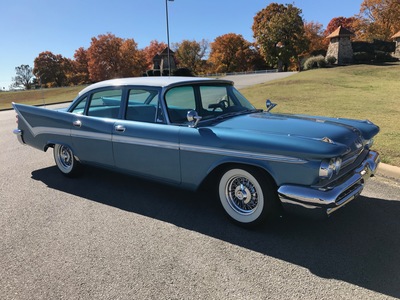 Since the website was down the pictures I had posted before have disappeared.  So I am trying to do some replacements and this is my first attempt.  Perhaps there will be more to come later.  Sure am glad the website is up and running again - Thanks Tim!
This post was modified 10 months ago by
FredRoman
"It's delightful, it's delovely, it's DeSoto"
Posted : April 18, 2019 1:18 am
Glad to see that you've successfully accomplished editing an old post.  At this point I don't see how someone can delete an old post, however I can do it with admin privileges.  If you want something deleted, you'll have to let me know, and then I'll eventually get to it!
It's supposed to be fun!
1949 De Soto Custom Convertible (project)
Posted : April 20, 2019 6:01 pm