Unregistered users may browse the website, but in order to participate in the forums and view select pages (such as "Club Contacts" and "Classified Ads") a user account is required. Click HERE to email the webmaster and request a free account. The National DeSoto Club uses real names rather than pseudonyms. Notify the webmaster of your user name preference (Johnathon Doe vs. John Doe, etc.), preferred email address, and password request.
Topic starter
October 20, 2020 7:20 am
Hello fellow DeSoto owners, My name is Scott Alvord and I am new to the Club.  I am in the process of restoring a 1947 Desoto.  I am using a family friend as the expert and working with him on this project.  We are mainly working on the the body to remove rust and get a base coat on everything to prevent further rust.  Currently having the floor panels repaired as they sustain a lot of rust through damage. As many of you know this is a slow process but we will get there.  As we go I am starting to look at future needs and repairs. Currently looking at the wiring harness needing replacement.  The question I have for the group is keeping it as a six volt system or converting to a 12 volt?  Please share your thoughts.
Thanks
Scott
I only have 1956+ cars that are all factory 12v, but my understanding is that a properly maintained 6v system is more than sufficient for an otherwise original car. The battery cables seem to especially be an important factor in how well the system operates. They should be replaced with the correct gauge cables.
@deanmullinax can you elaborate?
October 21, 2020 12:02 am
Scott,
 It's really sort of a myth that you need to change over from a 6 V to 12 V in these old cars. It's really absolutely not necessary as the 6 volt system worked perfectly for many years. Most importantly in a six volt system is that you have good wiring and good connections along with proper Gauge battery cables. If you going to go so far as to replacing the wiring harness I would recommend Rhode Island wiring. I got a harness from them at was really satisfied with the quality and the ease in which they made it to install. Everything was colour correct and labelled. Not necessarily cheap, but well worth the money in the end run.   Also, you can get brighter lighting by buying halogen or LED bulbs that are now available in 6 V that will fit right into your original sockets. Good luck on your project and post a few pictures!
Dean Mullinax 
Dean Mullinax
1957 Fireflite 2 Door Hardtop
1941 DeSoto Deluxe 2 Door Sedan

It's Delightful, It's DeLovely, It's DeSoto!
Topic starter
October 23, 2020 11:25 am
@deanmullinax  Thanks for the advice about staying with the six volt system.  It would make it easier plus the fact that you are making as close to original as possible. I was told you can get a six volt alternator now that does a better job than a generator.  Your thoughts?
I noticed you have a 41.  Did you restore your car? I have included a coupe of pictures.  One in my garage then the start of restoration.
Thanks again Scott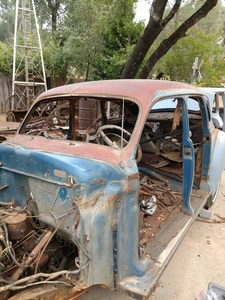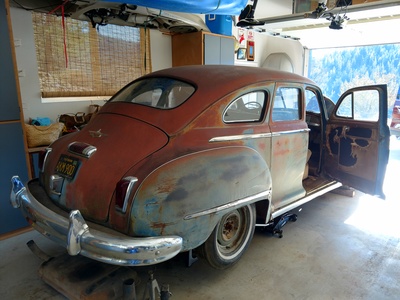 October 23, 2020 12:03 pm
Scott,
 If you're trying to stay as close to original as possible  I would not worry about going with the alternator. If you change your mind later it's an easy fix.  It also eliminates the use of the voltage regulator on your firewall though some people may leave it therefore looks. I did not do that. I simply had my generator rebuilt and put a new voltage regulator in along with the new wiring harness. My car was restored about 35 years ago and has held up moderately well since then, but mechanical items were never really done and when I 1st got it I went through a slew of mechanical restoration because parts were old and beginning to deteriorate. But I kept it as original as possible. I am just now getting the car to where I feel it can be driven locally and took it to its first car show last week! It's a good 10' car, Meaning that it still looks good from 10' away!
Everything you need for your car is available in the market. I would highly suggest you just stay original and restore back to what you originally had. I find that they are much more deeply appreciated when viewed in that condition but maybe that's just my experience.
One vendor that I have had a lot of luck with is Andy Bernbaum Auto Parts. Www.Oldmoparts.com Give them a look. 
Post more pics so we know how it progresses!! 
Dean
Dean Mullinax
1957 Fireflite 2 Door Hardtop
1941 DeSoto Deluxe 2 Door Sedan

It's Delightful, It's DeLovely, It's DeSoto!
Topic starter
October 27, 2020 11:19 am
Dean, Thanks for the information.  Never heard the one about a 10 car.  The wiring harness is expensive but have read a lot about the importance of good wiring and connections.  Looks like we need to bite the bullet and make the investment.  We have just decided to take the body off of the frame and really get into fixing the floor of the body.  This car was a field car for many years with a lot of rot in the floor.  This may take a while as the weather in California has been very hot and dry so the power companies have been turning power off to prevent fires.  Hopefully get back on the project next week.  I will post some more pictures then.
Take care 
Scott
November 11, 2020 11:06 am
Hi Scott,
I am also in the process of putting  a 1947 De Soto back on the road after a 20-30 year interruption.
I would urge you to not bite off too big of a chunk at once. You can always do a body-off-frame restoration at a later date.
That process is a HUGE undertaking, and I am concerned that you might "get into it" and become disheartened and just stop.
I suggest that you do "the bare minimum" to make your '47 "serviceable", at first. The first thing that I did was to free-up the wheels (they were "stuck") and then did a "brake job". The brake shoes were in pretty good shape. The old ones are better than what is made today, so we stuck with them. We had a machine shop turn the drums, removing only about 1 or 2 thousandths of an inch, just to "knock the rust off". The master cylinder was non-functional, and the fill plug was frozen, so I got a NOS (New, Old Stock) MC from Andy Bernbaum.
I also replaced the brake lines at the same time. Next came new tires, and I chose black-wall radials, as they were inexpensive and reliable. I too am sticking with a 6 volt system (note: these are Positive Ground vehicles). I have installed new battery cables, new spark plugs and coil  (all from Andy Bernbaum), and am now trying to get the motor running. I have installed an inexpensive plastic fuel line filter at the carburetor, and will be utilizing a small lawn-mower gas tank placed on the roof of the car (for gravity fuel feed) until the engine is running. I obtained  many other parts some a bit difficult to find, (radiator hoses, fan belt, etc.) from Rock Auto, and highly recommend them for several items (I will give you a part list of parts I got from Rock Auto, if you want it). Rock Auto is inexpensive and quite good. Once the engine is running, I will probably drop the gas tank and have it "boiled out" by a radiator shop (or replace it, if it is too far gone).
Meanwhile I have done absolutely nothing "cosmetic", and suggest that you hold off on body work until you have a "running car, capable of "stop-and-go". If you are really concerned about some exterior rust, you can always spray the offending area with Rust Reformer (by Rustoleum). That will stop (or greatly slow) further oxidation until you are ready for body work.
BTW, your De Soto has a BEAUTIFUL patina of relatively harmless surface rust.
If your car were mine, I don't think I would do anything to hide (or remove) that. It is a really great looking "survivor", and there is a modern movement to preserve such vehicles "just as they are" (but roadworthy, of course). Hagerty Insurance (among other companies) now appreciates the importance of survivors, and has a special class of coverage explicitly for survivors.
In any event, best of luck with your great find !!
Sam Nicolosi
Dayton, Ohio
Topic starter
January 11, 2021 10:50 pm
@samnicolosi.  Sam, thanks for your input...have not been on site for a while.....I am well into an off frame restoration and it is going really well.  I am going to post some more pic so you can get caught up visually.  We have just finished replacing floor panels and sprayed underside with truck bed liner....came out really clean.
We did discuss keeping it as a survivor as you called it but we are going to give her new paint.
Thanks again for your thoughts and well wishes.
Scott Alvord
Topic starter
January 11, 2021 11:03 pm