Unregistered users may browse the website, but in order to participate in the forums and view select pages (such as "Club Contacts" and "Classified Ads") a user account is required. Click HERE to email the webmaster and request a free account. The National DeSoto Club uses real names rather than pseudonyms. Notify the webmaster of your user name preference (Johnathon Doe vs. John Doe, etc.), preferred email address, and password request.
Topic starter
October 31, 2021 1:44 pm
As I have indicated in earlier posts, I have been pursuing a 1960 DeSoto 2 door HT since I sold my '59 Firesweep due to a stroke I suffered a year ago but fortunately have recovered enough to enjoy another DeSoto.  Unfortunately, I couldn't come up with a '60 that would satisfy my ridged requirements.  My patience was running thin and this '59 Firedome was as close as I could come and didn't want to take the chance of losing it. It's nearly a perfect rust free automobile with a full restoration being done both mechanically and cosmetically with only 42,000 miles.  The most significant option is swivel seats.  Other than the seats, it is not heavily optioned - Tu-Tone/sweep, AM radio, heater, WSW tires with aftermarket wire wheels, PS ,and PB are about it.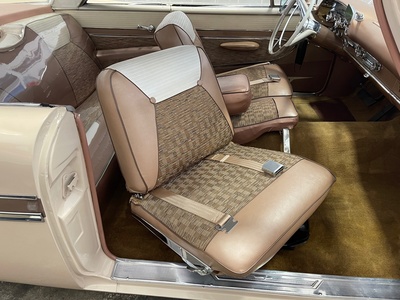 This topic was modified 2 years ago 3 times by
FredRoman
"It's delightful, it's delovely, it's DeSoto"
Seen this one for sale on different sites, and it looks stunning! Congrats and post more photos of this beauty please! 🤩 
1959 DeSoto Firedome Coupe
Pearl White/Bimini Coral
I am surprised you didn't hold out for a '60, but that's a fine looking '59 you got!
Truly a gem of the highest order 🤩, Spectacular in every way! 
1959 DeSoto Firedome Coupe
Pearl White/Bimini Coral
You scored a fantastic hit in buying this one Fred. Awesome!
Fred, quick question about your car. Does your map light come on when you open the doors in conjunction with the dome lights? On my car the dome lights work with the doors and with the switch, but only with the switch on the map light. I've seen both on the web on other 57-59 DeSoto's and Chrysler's so I'm just curious.
Thanks, 
Bernie
1959 DeSoto Firedome Coupe
Pearl White/Bimini Coral
Topic starter
February 2, 2022 1:08 pm
Good morning Bernie,
My map light works only with the switch.  Does not work with the glove box door either - kinda weird but that's the way they were made.
Your car is getting better and better all the time.  Keep up the good work and if I can help anytime, just let me know.  My car is a good one to access for correct information.  
I just got a new trunk mat that is a reproduction but it's the original D E S O T O one.  So far I have only test fitted it and it requires some trimming.  I believe that's going to do it for me as everything else is either is original, or restored to original, as it'll get. 
Fred
This post was modified 2 years ago by
FredRoman
"It's delightful, it's delovely, it's DeSoto"
Thanks Fred, you're right about being the go to guy for originality which is why I was asking. My car will be more of a survivor quality car, but I want everything working right. I'll stay in touch!
1959 DeSoto Firedome Coupe
Pearl White/Bimini Coral