Unregistered users may browse the website, but in order to participate in the forums a user account is required. Click HERE to email the webmaster and request an account. The National DeSoto Club uses real names rather than pseudonyms. Notify the webmaster of your user name preference (Johnathon Doe, John Doe, etc) and password request.
1941 DeSoto DeLuxe 2 door sedan
I thought I would put up a photo of my car since a lot of the old photos are gone.  This is my '41 DeSoto. It's a Deluxe  2 door sedan with Fluid Drive and the Simplimatic transmission (semi-automatic)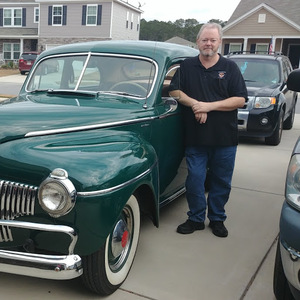 .  Only two are listed in the club roster but I know of 2 more.  All '41s are seemingly rare.  It takes a good picture.. .LOL but its a work in progress! Enjoy.
Dean Mullinax
1941 DeSoto Deluxe 2 Door Sedan
It's Delightful, It's DeLovely, It's DeSoto!
Posted : April 15, 2019 1:39 am