Unregistered users may browse the website, but in order to participate in the forums and view select pages (such as "Club Contacts" and "Classified Ads") a user account is required. Click HERE to email the webmaster and request a free account. The National DeSoto Club uses real names rather than pseudonyms. Notify the webmaster of your user name preference (Johnathon Doe vs. John Doe, etc.), preferred email address, and password request.
[Sticky]

What did you do with or to your DeSoto today?
I have been working on my rear end pinion seal. The seal on my car is recessed into the housing and all of the seals everyone carries have a flange that will prevent the seal from being fully seated. The knowledgeable guys at NAPA measured my old seal and found the seal without the flange. I had to special order it but now it is installed. Hopefully that will take care of the leak.
Do you have a part number? I will need to do one in my '59 at some point as it seeps just a little bit. I used DoctorDiff for the '66 New Yorker last year and was going to see if they had something old enough to cover the '59.
The seal without the flange is a SKF number 18880.
Great, thanks! If I can do that seal sometime this year, I *should* be down to only the transmission leaking.
September 7, 2023 9:41 pm
9 Sept 2023
After a recent purchase of a '55 DeSoto, I bought new tires. In removing the wheel covers, I discovered one brake drum with a missing lug bolt. 
I repaired the wheel lug receptacle whose threads were damaged thus preventing lug bolt insertion. I bought a left-manus 1/2" X 2O tap and a new, left-side lug bolt via the Internet. To correct the damage, I used the tap on the receptacle's threads and installed the new lug with some axel grease.
As with many motor vehicles, you'll find many problems after your purchase! This '55 DeSoto Fireflite Coronado was advertised as something to the effect of being road-worthy! Besides terrible tires, it had numerous problems! The 291 Hemi engine and its transmission run excellently! I purchased a Petronix electronic ignition kit to replace the points and condenser (correctly, a capacitor) which I'll install on a cooler, autumn day. I'll fix it up little by little, or as Hernando de Soto would put it: poco a poco. I'm certain that it will turn out to be a fine DeSoto!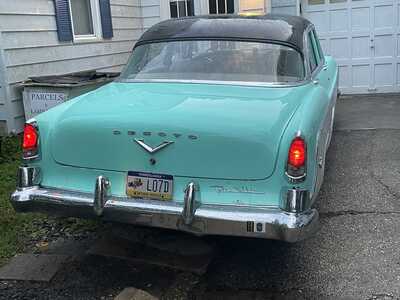 –––Richard S. Otto
September 11, 2023 6:56 pm
Hello Richard!  Welcome to the world of '55 DeSoto ownership.  I'm the '55 model year coordinator for the NDC.  If I can ever be of assistance to you regarding repairs, parts, or general questions, please feel free to contact me.  You can find my contact info on this website or in the Adventures magazine.  Hope we can meet someday at an NDC function.
Mark
Topic starter
September 20, 2023 11:02 am
After I got home from a month's long stay in the hospital, I needed to kill some time so I googled 1959 DeSoto and clicked on all images.  Low and behold my Firedome has 25 to 30 pictures!  One of them shows that at a Mecum auction it sold for $65000.00.
Which leads me into the next scenario:  Due to my health issues, I may have to put my DeSoto up for sale.  If there is any interest from a member, I would appreciate hearing from you.  I don't expect to get $65000.00 but would be open to serious offers.  The car is a #1 (or close to it) as you can verify it on the google images.  It's easily recognized by the color being Canyon Beige body with Golden Tan top and sweep.  The most notable features are the swivel seats and the D E S O T O trunk mat.
Please feel free to call me at 816-590-3685 or email fierofred@sbcglobal.net.  I have many pictures of the undercarriage that are not shown in any of the images. 
"It's delightful, it's delovely, it's DeSoto"
September 21, 2023 3:45 pm
Fred,
Sorry to hear you are having health issues again! I'd recommend making a new thread under the "Classified Ads" thread here to get more views: https://desoto.org/community/classified-ads/
You can also submit an ad to the magazine. That will take a few months to get to print, but the selling success rate through the magazine is pretty good.
Topic starter
September 22, 2023 6:30 pm
Thanks David for your suggestions.  I will use the classified ads if and when I do decide to sell the car.  Right now it's just a possibility that I may be forced into selling.  I have surgery coming up possibly next week and that will tell the story whether or not I will be selling the car.  I really don't want to sell it if I don't have to. 
Fred
"It's delightful, it's delovely, it's DeSoto"
September 25, 2023 8:12 am
Good luck with the upcoming surgery!
Topic starter
November 22, 2023 1:03 pm
I had my last surgery, got home, and a week later jumped into my DeSoto for a nice drive.  Super nice day in the 70's, clear and dry.  The car ran like a top and the only "issue" was the tires had flat-spotted for sitting a bit too long.  A few miles down the road and all was well again.  It's about time to put it away for the winter so I'll air the tires up to 50 psi, fill it up with non ethanol premium gas, add Sta-bil, change the oil and filter, and give a it good wax job.  Then all I have to do is look forward to spring.
Happy Thanksgiving!  
"It's delightful, it's delovely, it's DeSoto"
November 22, 2023 1:36 pm
@fredroman glad to hear you are back home and enjoying the DeSoto again! Mine has been put away since the weekend before Halloween and my efforts have been focused on my '66 Fury III. The DeSoto has a to-do list on the front seat that I will address a little bit at a time over the winter and into the spring before driving season gets too far underway.