Unregistered users may browse the website, but in order to participate in the forums a user account is required. Click HERE to email the webmaster and request an account. The National DeSoto Club uses real names rather than pseudonyms. Notify the webmaster of your user name preference (Johnathon Doe, John Doe, etc) and password request.
[Sticky]

What did you do with or to your DeSoto today?
Thanks Fred, I might contact him later and check if it's still available. Have a few other items to buy first, so I have to prioritize 🤔 
1959 DeSoto Firedome Coupe
Pearl White/Bimini Coral
Posted : February 16, 2022 11:11 pm
Last finishing touch, love it!
1959 DeSoto Firedome Coupe
Pearl White/Bimini Coral
Posted : March 30, 2022 7:19 pm
On Father's Day I took my '59 Firedome to the annual Father's Day car show held at the College of the Ozarks in Hollister, MO.  It was a small show with only 62 cars of many makes, models, and years.  Mine was the only DeSoto but did get the award for the "most original" of which I felt honored to receive.  
It was unusual that of the three awards presented, only one Chevy won and it was the Peoples Choice award.  The other two were my DeSoto for the most original and the last was for "Best of Show".  It was won by a 1950 Plymouth convertible and the ironic thing is that two of the three awards were "orphan cars" and both are MoPars!  Gotta love it!
No question about it, I would have rather been at the DeSoto Nationals but for health reasons I didn't feel comfortable traveling that distance alone.  I look forward to the Convention issue in the DeSoto Adventures. 
"It's delightful, it's delovely, it's DeSoto"
Topic starter
Posted : June 21, 2022 2:49 pm
Finally managed to get my 1960 adventurer out to the local car show and it ended up storming shortly after. about 20 minutes in they canceled, but it was still nice just having the old girl out of the garage.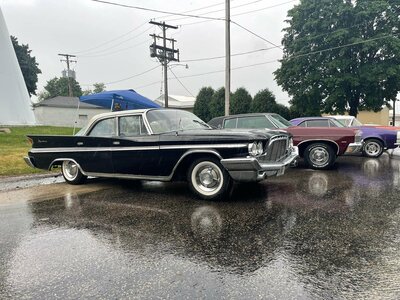 Posted : June 28, 2022 6:40 am
@jessebashaw looks good! I went to an all-c body show on Saturday with my '66 New Yorker and it rained most of the day there too. On Sunday it was the complete opposite!
Posted : June 28, 2022 9:25 pm
Posted : June 29, 2022 8:02 am
@davidfrank we are hoping to ht up another one on the 4th so fingers crossed the weather holds out. i have so little time to do shows that i had even contemplated selling the old girl so she can get the attention she deserves.  
Posted : June 30, 2022 12:33 am
@jessebashaw it sounds like you are doing your best to enjoy it! I sometimes drive my car for non-car show duty just for the sake of driving it and that gets extra me extra time enjoying it.
Posted : June 30, 2022 11:22 am
I need to wait until July 6th to have the front aligned before I start putting more miles on it. All new ball joints, bushings, tires, etc. I don't want to chew up any tires on it.
Posted : June 30, 2022 3:54 pm