Unregistered users may browse the website, but in order to participate in the forums and view select pages (such as "Club Contacts" and "Classified Ads") a user account is required. Click HERE to email the webmaster and request a free account. The National DeSoto Club uses real names rather than pseudonyms. Notify the webmaster of your user name preference (Johnathon Doe vs. John Doe, etc.), preferred email address, and password request.
[Sticky]

Uploading Attachments
Topic starter
November 28, 2014 11:50 am
With a new website, we have new procedures for uploading attachements into our posts.
These steps come from working on my laptop, so steps to upload images from a phone or tablet may be different.  Hopefully this short tutorial helps you get it done from something other than a computer if that's your preference.
At the bottom of the field in which I'm typing my text, I see a link with a paper clip and "attach files".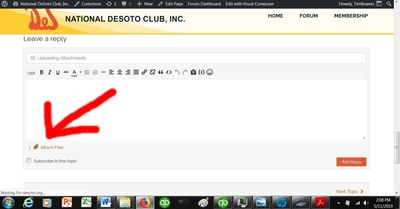 Press that, and find this window that comes up.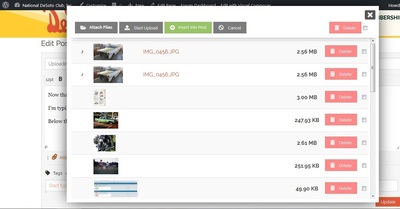 From my screenshot, you can see that I already have files in my library on the site.  But if you're starting your picture library from the beginning or wanting to upload new files, you want to select "attach files", which gives you an opportunity to select your image from the directory on your computer.  Once you've selected your desired photo, you'll find the next window available.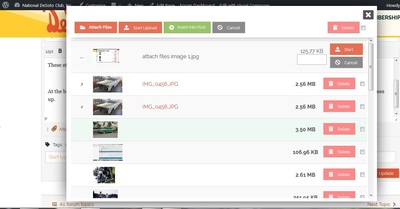 I can repeat these steps to attach more files to my photo library for the site.  Once I've finished selecting my photos,  then I will select "start", and the next screen arrives.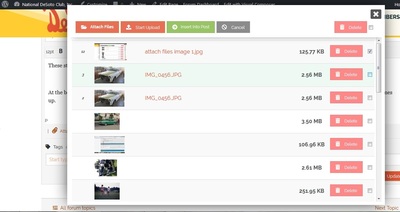 Notice that my newly attached file is checked.  Now is the time to press "insert into post".  After you do that, your post will look like you see below,  with my pictures inserted as html.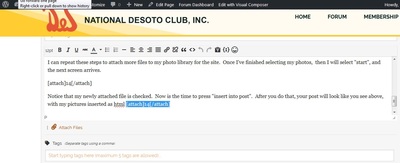 If I've finished with my attachements, I can finally choose to "add topic" and my new post is complete!
It's supposed to be fun!
1949 De Soto Custom Convertible (project)