Unregistered users may browse the website, but in order to participate in the forums a user account is required. Click HERE to email the webmaster and request an account. The National DeSoto Club uses real names rather than pseudonyms. Notify the webmaster of your user name preference (Johnathon Doe, John Doe, etc) and password request.
FAQs, and Tech Articles
Last Post Info
Find the answers to FAQS.
Topics: 16

|

Posts: 69
Our Technical Articles can help you understand your De Soto better and perform a variety of maintenance and restoration tasks
Topics: 37

|

Posts: 147
Look here for helpful videos related to repair, maintenance, and use of your DeSoto and it's accessories.
Topics: 1

|

Posts: 2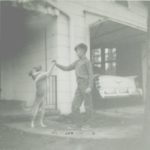 FAQs, and Tech Articles
Look here first for answers to frequently asked questions and technical articles written by our knowledgeable members!
Topic Title
Last Post
Views
Posts
395
1