Unregistered users may browse the website, but in order to participate in the forums a user account is required. Click HERE to email the webmaster and request an account. The National DeSoto Club uses real names rather than pseudonyms. Notify the webmaster of your user name preference (Johnathon Doe, John Doe, etc) and password request.
I finally programmed the Holley Sniper FI yesterday
Topic starter
November 3, 2021 10:26 am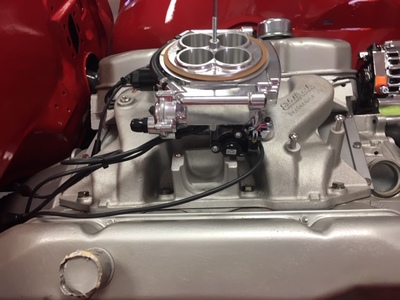 I was unable to activate the programming handheld module and the Holley Dual Sync distributor. I had made a few calls to Holley assistance line which is very good and they take calls until 11 pm. They had advised me to return the FI unit that replaces the carburetor to have Holley check it out, but before I did that, I decided to recheck all of the wiring and I found that the wire I had sourced for the computer was not providing the necessary voltage. After another call to Holley I rewired it and lo and behold, the computer programmer came to life.
 I have not started it yet because I am going to install a Vintage Air Gen IV heat, defrost, AC system and I haven't bought it yet so I cannot complete the cooling system. Gotta get on that.
Also need to have the interior redone. 
November 4, 2021 12:09 am
It's always great to see progress! Do you think it will be completed by June?
Topic starter
November 4, 2021 11:45 am
@davidfrank I sure hope so. The next hurdle is getting the interior done.
November 11, 2021 7:04 pm
Wow!  Now I can really see why my favorite DeSoto is a 1960.  Looks amazing already and I can't wait to see it completed.
Keep us posted Regis
This post was modified 1 year ago by
FredRoman
"It's delightful, it's delovely, it's DeSoto"
Topic starter
November 11, 2021 8:32 pm
I secured a set of swivel seats to put in instead of the bench seat. I killed 6 cows (not really) to get hides to upholster the seats in leather. Instead of the center seat/armrest, he is going to keep the center setback and build a console/armrest with cup holders in the middle.