Unregistered users may browse the website, but in order to participate in the forums a user account is required. Click HERE to email the webmaster and request an account. The National DeSoto Club uses real names rather than pseudonyms. Notify the webmaster of your user name preference (Johnathon Doe, John Doe, etc) and password request.
New Member 1930 DeSoto
This is my 1930 DeSoto Coupe that I have been working on for the past year. I just had all the glass replaced, painted, and the bumpers re-chromed. It was sold to me as a 1930 with 1931 bumpers but I have not determined the exact model. It is NOT a CF because I ordered all new glass for a CF and none of it fit. Looking to determine exactly what model it is. The title says 1930 but it sure looks like a 1931 SA to me. Any comments welcome.
Vern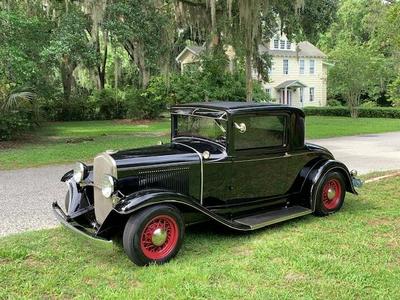 This topic was modified 1 year ago 2 times by
Vern Davis
Topic starter
Posted : June 15, 2021 2:01 pm
My 1930 DeSoto has a crate 350 Chevy engine with Holley Fuel Injection, 400 Turbo Automatic transmission, and an S-10 4x4 rear end. It has a Heidt's IFS, 4-wheel power disc brakes, Vintique wheels, and Old Air A/C. Working on getting the interior redone.  
Topic starter
Posted : June 21, 2021 6:53 am
Looks like you have a nice collection of DeSotos. I would think the 30 would be equivalent to what people now call a resto-mod. I have been building a 60 Adventurer 2 dr hardtop as a rest-mod. The exterior is back to original, but I have added 4 wheel disc brakes, Holly Sniper FI, cruise control, and Vintage heat, defrost, A/C.
How does the Hllly FI work on this car?
Posted : June 21, 2021 7:05 am
Posted : June 21, 2021 7:05 am
Yes, it is a resto-mod. The car is in Florida only temporarily. Plans are to transport it to my home in New Hampshire as soon as I can arrange transport. Once here, it will get a new wine colored interior. Thank you.
Topic starter
Posted : June 24, 2021 4:54 am
The Holley Sniper FI was on the car when I bought it. I don't know much about it since I have not driven the car yet. My son in Florida has driven the car and says it works very well. 
Topic starter
Posted : June 26, 2021 5:40 am