Unregistered users may browse the website, but in order to participate in the forums a user account is required. Click HERE to email the webmaster and request an account. The National DeSoto Club uses real names rather than pseudonyms. Notify the webmaster of your user name preference (Johnathon Doe, John Doe, etc) and password request.
Windshield Visor Installation on 56' Coupe
Topic starter
March 18, 2023 1:36 pm
I recently purchased an accessory exterior windshield sun visor / sun shade for my 56' DeSoto Coupe.  I have the two main pieces together with the center clamping device and covering trim.  I appear to be missing the clamping hardware used in between the center and the windshield posts to support the visor.  I'd appreciate knowing of a source for these or receiving a photo of what they look like so that I can fabricate something suitable.  Also appreciate any form of installation instructions.
Bob Lederer     Bob @buycps.com     630-417-2876
Bob,
I don't have any extras, but here are some reference photos I took when I was in this stage on my '56. There are four of these smaller pieces, two per side, and one longer piece in the center. Basically they screw/rivet into the roof (you can clearly see that hole) and then there is a screw hole on the front for the screw that goes through the stainless pieces. You might try John Fowlie at Big M Automotive for these pieces. http://www.bigmauto.com/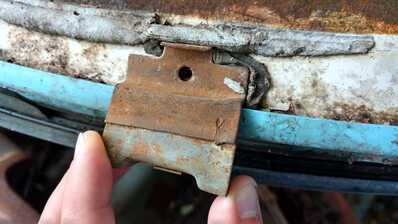 I hope this helps.
David