Unregistered users may browse the website, but in order to participate in the forums a user account is required. Click HERE to email the webmaster and request an account. The National DeSoto Club uses real names rather than pseudonyms. Notify the webmaster of your user name preference (Johnathon Doe, John Doe, etc) and password request.
DeSoto Dealer Thread
Since there is not currently a good place for compiling photos of old DeSoto dealers, addresses, related literature, etc., I thought we could start a thread that everyone could contribute photos to. One of the other forums I belong to has a similar thread that has been quite successful, so I am hoping this will be too if everyone contributes!
As you post photos, please also type out the name of the dealer, dealer code (usually shown on the build card or owner's certificates), location, date, etc. if known. It will make it much easier to search the thread later.
I'll get it kicked off with photos I found of Widrig Motors, Inc., which was a DeSoto-Plymouth dealer located at 432 E. Kilbourn Avenue in Milwaukee, Wisconsin. The photos are dated between 1939-1942 and though I don't know how long they were in existence, the building that is now in that location (Allen-Bradley Hall of Science) actually is part of the Milwaukee School of Engineering campus and was built in 1960, prior to the end of DeSoto. Coincidentally, I spent almost every day studying and attending classes at MSOE in that building. You'll note a number of interior and basement photos, which were taken due to the expansion of Kilbourn Avenue and the bracing work that needed to be done inside of the building for that.
Source: Milwaukee Public Library
https://content.mpl.org/digital/collection/HstoricPho/search/searchterm/widrig
Posted : February 7, 2020 6:20 pm
I found this link for DeSoto Dealers:
Posted : March 11, 2020 12:08 am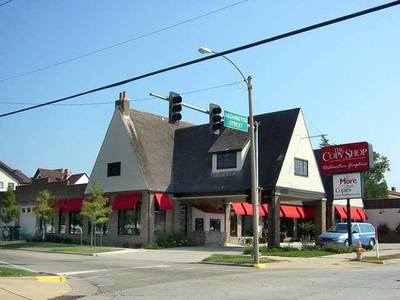 The C.W. Frey dealership from Bloomington, IL. You'll notice the late 1950's shot and a color picture from around 2015. The third picture is also Frey's but from the corner of west Washington and Madison streets. I'm not sure when the location changed but believe it was after the DeSoto period. The third picture barely shows the dealership but the building is still standing today, albeit with the large windows bricked up when it was converted into a private club. I'll try to get a new picture of the later building.
Posted : April 24, 2020 9:50 pm