Unregistered users may browse the website, but in order to participate in the forums a user account is required. Click HERE to email the webmaster and request an account. The National DeSoto Club uses real names rather than pseudonyms. Notify the webmaster of your user name preference (Johnathon Doe, John Doe, etc) and password request.
Any Resto-mods Here?
Hello, fairly new member here. Would like to hear from any other members who have DeSoto Street Rods, resto-mods, hot rods, or rat rods.
 I will start it off with my 1930 DeSoto Business Coupe. That's what the title says but it may be a 1931 SA since it does not have split bumpers. It has a 350 Chevy crate engine, TH400 transmission, S-10 rear end, Holley Sniper FI, Heidt's coil over front suspension with rack and pinion steering, Old Air A/C, 4-wheel disc brakes, and Vintique Wire Wheels. It was recently painted black and I have plans to install a wine colored interior.
 Tell me about your car and lets see some pictures!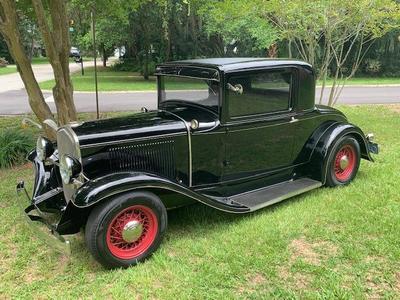 Topic starter
Posted : July 23, 2021 7:16 am
There are guys that have resto mods here. Your car looks really nice and still has the "original" look to it too. Have fun with it!
Posted : July 23, 2021 8:00 am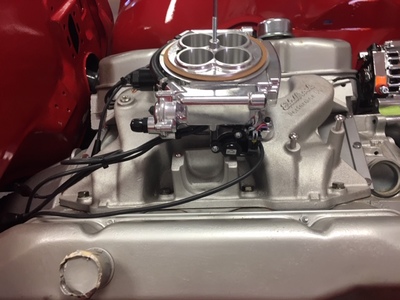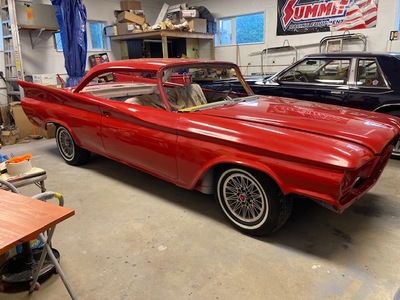 I am building a 60 DeSoto Adventurer 2 dr hardtop which is somewhat of a resto mod. The exterior is all original 60 DeSoto and the drivetrain is the original, however, I have updated brakes using 4 wheel disc and split master cylinder with power application from a hydro boost system. The engine is fed by a Holly Sniper fuel injection system. I wanted to install an alternator for better charging and a Vintage Air Gen IV system for heat, defrost, and AC. Rather than scrounging for pulleys and brackets to drive these items, I installed a March Revolver system that utilizes a single serpentine belt to power everything. To cool things I have installed an aluminum radiator and electric fans. Since I installed disc brakes on the rear, I have to go to 15" wheels to clear the calipers, so the original 14" wheels and hubcaps are out and I am using 15 x 7 alloy wheels from a 81 Imperial with Diamond Back 15 " wide radial whites.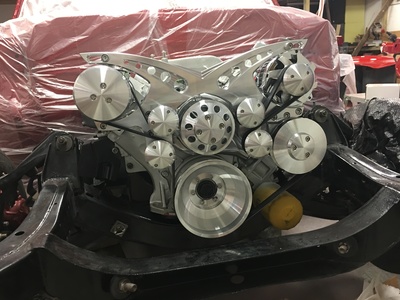 Posted : July 23, 2021 10:09 am
Double post. Sorry.
This post was modified 10 months ago by
Vern Davis
Topic starter
Posted : July 23, 2021 12:08 pm
Thanks Jim, the original look is what I am going for since I love the look and style of the car.
Vern
Topic starter
Posted : July 23, 2021 12:09 pm
@regisbodnar Regis, very nice DeSoto. I like what you have done to the car. What is your timeframe for getting it on the road?
Topic starter
Posted : July 23, 2021 12:13 pm
I hope to have it on the road by next Spring. I have been working on it for 8 years and still have the interior, wiring, and AC to complete.
Posted : July 23, 2021 7:49 pm
I know you will be happy to drive it finally. It's a beauty! 
Topic starter
Posted : July 24, 2021 4:06 am
Mine is a bit of a resto-mod.
The body is all original, but it's been painted, and there have been some chrome removed from the hood. Oh yea, and the whole drivetrain was replaced with HP big block (383 HP B Block) and a727 trans from a 1968/1969 charger (We think, not 100% on the donor car). The drivetrain conversion was done by a P/O and it was an ok job. They used an undersized radiator so I have to change that out before I take any cruises on a hot day. She is going into the shop for that today.
I'm going to put this out there, I just got the car, but to manage that 140hp over the stock hemi, I'm going to have to upgrade brakes to power disc, and upgrade the steering because I noticed when I hit 80, the original manual steering tends to rattle a bit. No, I don't fear death in case that last part made you wonder. I'm also debating on suspension. As the driver of a boat, 1955 Fireflite, the suspension leaves a lot to be desired when I do things like turn or stop. So while most of my car friends say air ride, I'm thinking of maybe a Mustang II IFS to bring disc brakes, rack and pinion and possibly coilovers. But finding a Mustang II IFS that can handle a 2 ton car with a high torque big block is a challenge. I may go away from Mustang II to something semi-custom (budget alert!!). 
Apart from the drivetrain and other mechanicals under the car, I want to keep it original to the casual passer-by. I found some OEM bulb covers to fit the dash which will house my alarm LED,  and with my factory radio delete, I'm going to toss a bluetooth amp under the dash and put a nice speaker in the stock spot so I can have tunes. My car was de-badged so the only place with the word DeSoto on it is the radio delete. But once I get the handling fixed, AC and some power upgrades might be in the future.
I have verified I'm running a 383 B block, but fun fact, a P/O added RB valve covers to my engine. I assume they liked the Golden Lion logo and technically, they do fit, but I will probably keep them as it's a fun inside thing for me.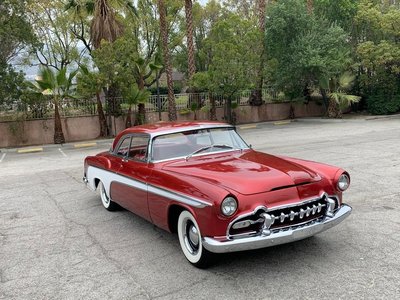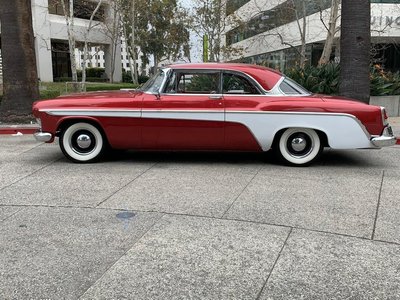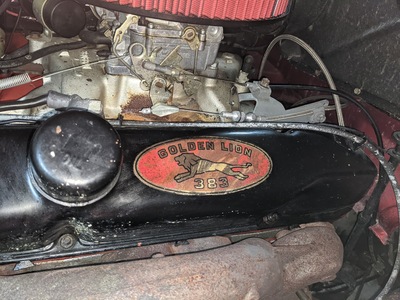 1955 DeSoto Fireflite Sportsman
Posted : November 23, 2021 2:00 pm
 That's a beauty! Love the color combination. I agree you will need better brakes with that 383. My last two old vehicles had 4-wheel discs. I think that is the way to go. IMHO, a Mustang II type front suspension might not be the best way to go on such a big heavy car like this. I think if you replaced the steering box and replace any original worn suspension components you should be okay. The old Chrysler suspensions were very good and held up well. 🙂
Topic starter
Posted : November 24, 2021 6:45 am
@verndavis There are a few beefed up IFS options out there that are built for 700+hp solutions that I think may be sturdy enough for my car, but Mustang II's are not built for this application normally. I would like to tighten up my driving, but I might be going a bit too far. Maybe my shocks are a bit soft and need replacing.
My last car was a '67 mustang with a heavily modified 302 with a T-5. I'm used to having tight suspension and power steering. I have to remind myself that I'm not in a muscle car, I'm in a cruiser. 
4 corner disc brakes with a power booster and new dual master cylinder will be a future project, 100%. Just have to identify the right kit and figure out if my mechanic will charge me both legs, or just one.
1955 DeSoto Fireflite Sportsman
Posted : November 24, 2021 12:43 pm
I put 4 wheel disc brakes on my 60 Adventurer; The front brakes ar an AAJ setup and the rear is SSBC. I am using a Hydro Boost system for the power assist.
If you want to add power steering, there are some new setups using an electric motor instead of hydraulic.
Posted : November 24, 2021 12:58 pm
I just checked, Summit Racing has the electric conversions to add power steering.
Posted : November 24, 2021 1:01 pm
@jdabbey Chrysler cars are known for their mushy suspensions. Being an old fart I kind of like mushy. Leave the stiff, sporty suspensions to the Mustangs and enjoy cruising.  😀 
Topic starter
Posted : December 1, 2021 6:19 am
@verndavis It will take me some time to get used to a cruiser over a muscle car, but I do have to account somewhat for the fact that my motor is a lot heavier than stock and has significantly more horsepower and torque than the stock motor. I am not going full on racing(something I have to remind myself, read too many articles by David Freiburger I guess), but I do want to improve handling to account for the weight and power that was added to the car. Current motor build plan is to do the standard bolt-ons of headers, cam, intake, EFI, Pertronix and possibly heads so it will go from the 335hp now to about 455 when I'm done(I cannot leave an aftermarket motor stock, it's a compulsion). So this upgrade to suspension is more about safety along with disc brakes on all 4 corners. I'm open to ideas for stiffening up the suspension, but mushy suspension won't work with >450hp even if it's just a weekend cruiser. lol
@RegisBodnar I think you mentioned this in another thread and I did some initial research on it. I'm testing out a new mechanic now, so I don't really have a build plan and he isn't specifically a mopar guy so I will rely on you guys for advice on these things. I'll probably start bugging you for details over DM when I get closer to this project. I wish that there were more '55 Fireflite restomods from which to steal ideas gain inspiration.
I am 100% open to suggestions for modifications. Mopar is a whole new world for me, so I'm not aware of what is available. 
1955 DeSoto Fireflite Sportsman
Posted : December 1, 2021 11:36 am