Unregistered users may browse the website, but in order to participate in the forums and view select pages (such as "Club Contacts" and "Classified Ads") a user account is required. Click HERE to email the webmaster and request a free account. The National DeSoto Club uses real names rather than pseudonyms. Notify the webmaster of your user name preference (Johnathon Doe vs. John Doe, etc.), preferred email address, and password request.
Topic starter
May 23, 2023 6:15 am
Hey folks. I did an inspection of my 1929 k series engine internals and was not satisfied with the condition. So a complete engine overhaul is going on. Bearings were delaminating and the cylinder walls were atrocious. Complete teardown and rebuild is happening. New babbitt new pistons ect. I will post some pics soon.
If you're that far in anyways, that's definitely the right way to go. Looking forward to seeing updates on the engine work!
These Flathead sixes were usually pretty good engines and would last a long time. Considering the age of your car I'm sure that engine could stand some freshening up! I think you're doing the right thing here. You'll be glad you did it when you're done. Enjoy the road to get there and then enjoy the car on the road!
Dean Mullinax
1957 Fireflite 2 Door Hardtop
1941 DeSoto Deluxe 2 Door Sedan

It's Delightful, It's DeLovely, It's DeSoto!
Sweet!  Keep us posted with your progress.  Pics are always a plus.  
"It's delightful, it's delovely, it's DeSoto"
Topic starter
May 23, 2023 8:57 pm
You may notice that the counter weights are bolted on.  Then I started attempting to find a babbitter that I trusted. Originally egge referred me to one near me but then I heard bad things from my machine shop. So then I picked Paul's babbitt in Kansas City. Great guys and fair prices.
Topic starter
May 24, 2023 6:12 am
Once bearings went out for repair I had the issue with the pistons. Cylinder walls were tapered.017 and had bad grooves in them. The rings were mismatched and installed upside down ect... Years of tinkering by past owners. Standard pistons not available non the less oversized. The piston lands were wore along with the pins. To have a custom set made would be around $1600-2000. Plus rings since everything is an oddball size.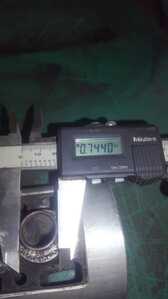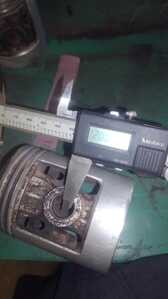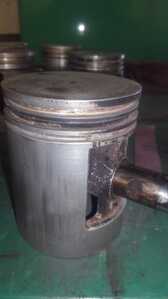 Topic starter
May 25, 2023 5:32 pm
I found pistons for a Plymouth 201. Compression height of 2.0" and bore of 3.125. after some research I found out that my 174.9 engine with 3.00" pistons was bored .125 over to make the DeSoto 189.8 the very next year.  So that is what I have done. I've bored the block to 3.125 to accommodate the Plymouth pistons. My next issue is pin size. The 174.9 engine used .750 pins and the Plymouth pins are .8625. so now I'm boring the rods small end to accommodate the larger pins.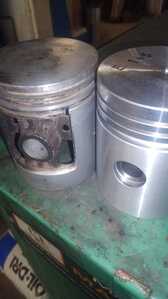 Great find on the Plymouth pistons.  Should work like a charm if everything goes right which it sounds like you are on it. 
"It's delightful, it's delovely, it's DeSoto"
It sounds like you have a good knowledge of engine and machine work. Do you have a timeline for completion?
Topic starter
May 26, 2023 8:40 pm
Must be done by the Syracuse Nationals July 13th