Unregistered users may browse the website, but in order to participate in the forums a user account is required. Click HERE to email the webmaster and request an account. The National DeSoto Club uses real names rather than pseudonyms. Notify the webmaster of your user name preference (Johnathon Doe, John Doe, etc) and password request.
FOR SALE: TWO 1956 DESOTO FIREDOME 4 DOOR SEDANS
We purchased both cars in 2009 and have since purchased many parts and manuals. We had the body work completed on the unpainted car.  The other car  was repainted (by previous owner) and has a lot of new and refurbished chrome pieces and parts. He passed away before finishing the car.  I have pictures, parts inventory, receipts, history and much more. We are retired and my husband has three other cars and a motorcycle. This would be a Great Project for someone! Selling everything as a lot, not parting out.
Contact: Pam Walker, Mondamin, Iowa. Phone: 712-216-0099. Email: pamwalkereec@gmail.com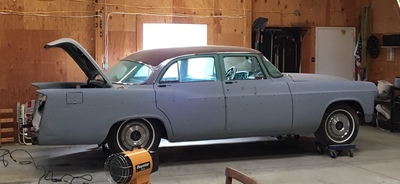 Posted : November 20, 2020 3:11 pm