All information below was previously part of www.roadkillontheweb.com and was written by Lee Exline, National DeSoto Club.
DeSoto Trucks
The subject of DeSoto trucks needs to be split into a few different categories:
A Dodge By Another Name
'57 DeSoto truck in Mexico
While DeSoto trucks were not sold in the United States, they were produced here on the same assembly line as Dodge trucks and right next to the Fargo trucks destined for the Canadian market. They would be considered "badge engineered" trucks as they were a Dodge truck with the DeSoto nameplates intended for foreign markets like Mexico, Central America, South America, and lots of island nations in the western hemisphere. Are they real DeSoto's? Yes! Mother MoPar intended them to be so they are. They are out there but bringing them back to the States can open up a whole can of worms. Besides importation cost that includes transportation, import fees, customs costs and duties (25% of purchase price for trucks), you will need to work things out with your local Department of Motor vehicles since their records will not show that they were ever produced and they will not be able to verify the VIN number; this may require some assistance from Chrysler Historical. You will also need to make sure that you have all the proper paperwork from the country of origin to show that there are no liens against it and it is not stolen. Some countries do not have titles and some do not even consider the year of manufacture in their licensing like we do here in the States. The ultimate collector in this category would be a 1957-59 vintage swept side truck similar to the American version dodge truck. I have seen pictures of the 57 version that has 1956 Plymouth 2 door wagon rear quarters and DESOTO on the tailgate where the Dodge version used 1957 Dodge station wagon quarters. Good luck finding one; the picture I have of one has palm trees in the background. Was the picture taken in Cuba? Who knows?

Turkish Twists
Want to own a current year DeSoto truck? You can! Just contact your local Turkish Chrysler dealer and place your order, but good luck getting it back into the States as I would almost bet it does not meet our standards for emissions and safety. Unlike the re-badged Dodge trucks we discussed earlier these have very little to nothing to do with Dodge trucks and are just the DeSoto name on another company's product but as approved by Mother MoPar. Some of the ½ or ¼ ton pickup pictures of trucks used in India I have seen look like the bodies were made in a high school sheet metal class. There are no compound corners and everything could be made in a press brake then welded together. I am not sure what engine it runs but you can bet it is not a big block! But the DeSoto name is loud and proud across the front of the hood in large letters. They also have a full range of diesel tractor-trailers.

South African DeSotos
DeSoto Diplomats and rebel passenger cars were built in South Africa through 1964 so you can bet the DeSoto trucks were also built there. I do not have visual proof yet but when I do, I will add it to this page.

Wonders From Down Under
Shown above is Lee Exline's Australian '56 DeSoto Ute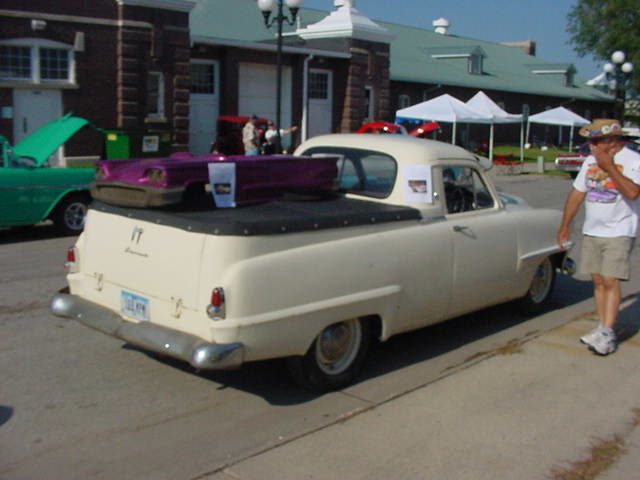 Shown above is an Australian '56 Plymouth Ute, previously owned by Lee Exline
Australia had a way of being different! Not only were the steering wheels on the other side but some other things where different that could only be found on Australian built DeSoto trucks. Sure you could get a 2-ton stakebed farm truck made for hauling grain to market that looked just like a Dodge, but it was the smaller vehicles that really stand out from the crowd. These are referred to as Utilities in OZ. They, from the front, look just like a dodge but once you look at the side things get different; they are not built with separate body and box like American Pick-ups. It looks like they used the panel van body and made it into a pickup by removing the upper rear body and putting a bulkhead between the box and passenger compartment. The standard models had a roofline very reminiscent of a pickup but the deluxe models had rear quarter windows and a coupe like sloping roofline. Another variation was the coupe utility (UTE for short) these were based on a passenger car chassis! I happen to own one of these as shown above.

Buses, Military Vehicles and Fire Trucks!
That's right! Your kids could be riding to school in DeSoto style...if they were in Europe! So far I have only been able to confirm that they were made in the United Kingdom. So next time you are there going on a tour makes sure to send me a picture of the bus for the website. Want to go four wheeling in your DeSoto? Sure you can take your Firedome into the hills but why not track down a DeSoto Powerwagon instead! Foreign governments needed military might also and the Dodge Powerwagon was a force to be reckoned with. So just like the standard Dodge truck platform, the Powerwagon fleet was available with DeSoto nameplates. Yes this means you could get a six-wheel drive behemoth and go exploring the wilderness just like Hernando did. So next time you are on vacation in a foreign land, take a second look at the old Powerwagons the local military is using. Huge Desoto pumper trucks put out many fires in their day in countries other than the United States and some may still be in service today!

Why Did Other Countries Insist on Renaming a Dodge to Make It a Desoto?
Sometimes it could be as easy as the DeSoto name is just much more popular than Dodge! And in other cases, much like the passenger cars, foreign countries specified to manufactures that there be a notable difference between the models that were legally imported rather than smuggled in without the government getting their fair share. By changing the name it made it easy to determine what cars/ trucks where there legally.
'61 DeSoto Big Truck Brochure