Unregistered users may browse the website, but in order to participate in the forums a user account is required. Click HERE to email the webmaster and request an account. The National DeSoto Club uses real names rather than pseudonyms. Notify the webmaster of your user name preference (Johnathon Doe, John Doe, etc) and password request.
Presenting my "new" '59 DeSoto Firedome Coupe
I rebuilt the front ball and trunnion joint on my '59 FF driveshaft last year. It was a good learning experience. Don't be shy about the grease inside!
Posted : November 30, 2021 9:53 pm
Read somewhere (believe Forwardlook.net) that you shouldn't use too much grease when putting it together. However, when I took it apart it was loaded with grease, so I went somewhere in between. The hard part is done anyways, so I'll install it today before working on the fuel tank.
1959 DeSoto Firedome Coupe
Pearl White/Bimini Coral
Topic starter
Posted : December 1, 2021 10:06 am
When I put mine together, I kept it light on the grease for the same reasons you mentioned. Evidently I skimped too much because at the convention this year I developed a bad shudder that ultimately was solved with adding more grease to that joint.
Posted : December 1, 2021 11:14 am
@regisbodnar I looked into the same thing and was told around $700, so I'm putting it on hold right now. Need to spend my money elsewhere, but it certainly looks like a great setup, so maybe in the future
1959 DeSoto Firedome Coupe
Pearl White/Bimini Coral
Topic starter
Posted : December 1, 2021 2:16 pm
Is there a way to replace the headliner without pulling the rear window? I know that's what the Shop Manual says, but I'm trying to find out if there's an alternative way
1959 DeSoto Firedome Coupe
Pearl White/Bimini Coral
Topic starter
Posted : December 1, 2021 10:38 pm
That's great! Awesome progress in a short amount of time!
Posted : December 8, 2021 3:53 pm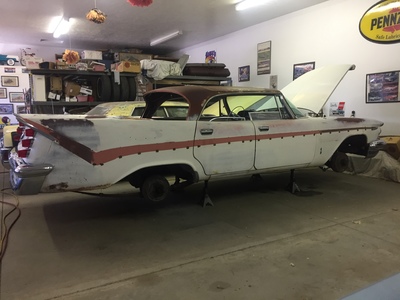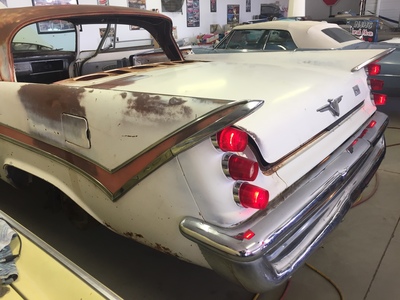 What really has been a big asset is the $750 project car I purchased. Different parts missing and broken on the Coupe, while everything was intact on the 4dht Firedome. Still have many parts that I'll transplant over to the Coupe as the project continues, so it keeps on giving and is saving me lots of time and money 
This post was modified 5 months ago 2 times by
Bernie Moen
1959 DeSoto Firedome Coupe
Pearl White/Bimini Coral
Topic starter
Posted : December 8, 2021 7:47 pm
Parts cars are invaluable assets when restoring or fixing up these cars. The parts car you have actually looks pretty solid too!
Posted : December 9, 2021 2:47 pm
@berniemoen that job looks VERY familiar! These dashboards aren't too bad to disassemble and reassemble, but the painted lower windshield trim is a royal pain if you put a new dash pad on the car (I got mine through RDAutoline in Sweden, took about 9 months and very pricey) and then try to get the screws through the trim with the windshield in place.
Posted : January 7, 2022 9:43 pm
Yes I would imagine it could be difficult to reinsert those screws through the dash if you got it reupholstered. I'm however going to paint the dash instead for now, so it shouldn't be too hard. This is however phase #1 of this restoration, so I might change it up later. Same thing with the interior, will cover it up but get it reupholstered after I sell another car to free up the money. Finished off the electrical work, so everything is working as it should (except the clock), and all "mickey Mouse" connections and wiring repaired to factory standards in accordance with the wiring diagram. Got a couple of leaking wheel cylinders that needs some attention, then install the electronic distributor before painting individual interior parts when the weather warms up. Should be good to go by the time spring is here, unless something else breaks (knock on wood).
1959 DeSoto Firedome Coupe
Pearl White/Bimini Coral
Topic starter
Posted : January 8, 2022 1:48 pm
Dash and moldings painted and bling back on. Steering wheel restored and painted as well. Starting to look like something now 😎. New speakers installed and all functions are now back to oem. Now on to the swivel seats and temporary upholstery 😉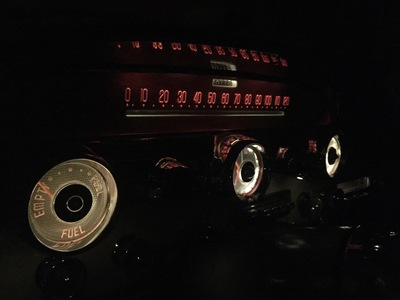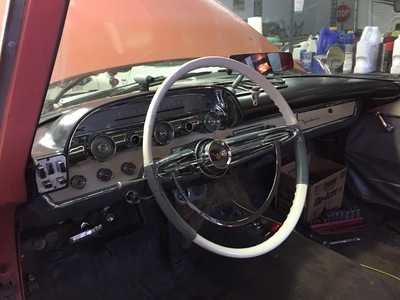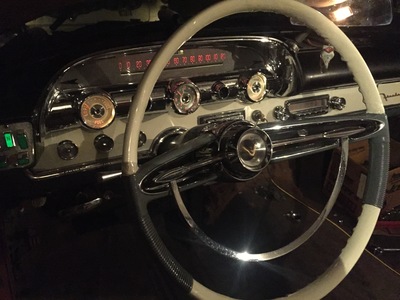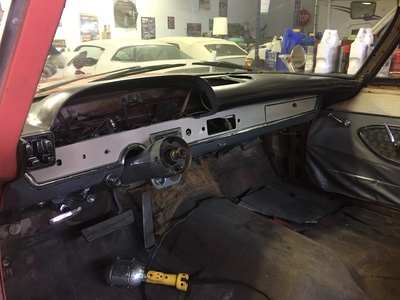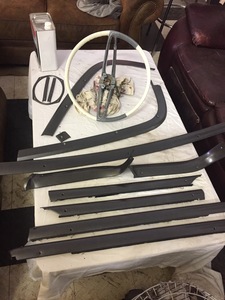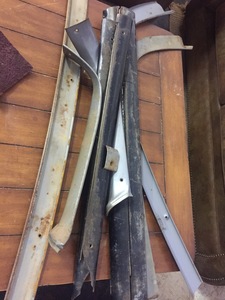 1959 DeSoto Firedome Coupe
Pearl White/Bimini Coral
Topic starter
Posted : January 21, 2022 10:56 pm