Annual Convention Judging Forms & References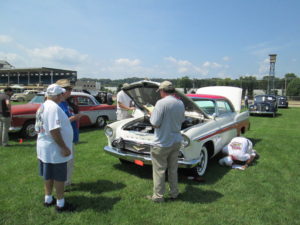 At the car show during the annual convention, members showing cars may choose to have their car entered as one of the following, and will indicate such on the convention registration form:
Judged
Not Judged
"Diamond in the Rough"
Winner's Circle
As a reminder, ALL DeSotos on the show field must be owned by club members, have a fire extinguisher displayed by the driver's front tire, and be driven onto the field under its own power.
Judged
Class I: 1929-1940
Class II: 1941-1949 (First Series)
Class III: 1949-1954
Class IV: 1955-1956
Class V: 1957-1958
Class VI: 1959-1961
Class VII: Modified
**Classes may be slightly adjusted for better balance at the discretion of the Chief Judge, depending on convention turnout. For example, 1959 models may be moved to Class V if there are only a few 1957-1958 cars and lots of 1960-1961 cars present.
Judging is done by a group of volunteers at each convention and is headed by a Chief Judge that is selected by the convention chairman and approved by the Board of Trustees. The Chief Judge is in charge of organizing the volunteers into groups based on need, areas of expertise, and avoidance of conflicts of interest (ie show car owners cannot judge their class). All judges meet Saturday morning before the show to be sorted into teams and to review all the forms and general guidelines for judging.
The forms (attached below) used are based on a point system that is consistent among all classes, models, etc. On the forms, the car is divided into 4 main categories: interior, exterior, engine, and chassis. The National DeSoto Club judging, for stock classes in an effort to encourage accurate restorations and preservation as the cars were originally built, is based on two factors: condition and originality (aka how the car would have left the factory). To achieve the highest judging results, restorations should not be over-the-top. What that means is that if the trunk area originally had overspray and undercoating from the factory, it should not be restored to mirror-perfect paint all over. Likewise, the original black on many engine components was semi-gloss, not high-gloss. A car that is restored too perfectly could actually be reduced a rating if it does not meet the correctness aspect. For cars entered into the modified class, correctness is not considered. Condition and quality of work impacts the rating and scoring for that category.
As an example scoring scenario, let's take the scenario of 4 '58 DeSotos that are being judged. One has a perfect original trunk mat, one has perfect carpeting, one has a beat up original rubber mat, and one is missing the mat all together. The person with the perfect original mat will score full points in that category. The person with the carpet will be bumped down one rating because the carpeting is incorrect, but will not lose any more points because it is in good condition. The third person who has a beat up original mat will be rated based on condition and lose points accordingly; the exact score depends on how deteriorated the original is. The last person has no mat at all and scores zero points in that category. Exceptions are not made for hard-to-find parts because there are always going to be people that have originals or went the extra mile/expense to acquire the correct part.
Since driving our DeSotos is highly encouraged, items that can be justified as safety-related are an exception to the correctness criteria and will not impact scoring. This may include disc brakes, dual reservoir master cylinder, battery disconnect switch, seat belts, an additional brake light, turn signals, brighter bulbs, etc. Likewise since the NDC does not have a specific driver or survivor class, there is also general leniency to a car that was clearly driven to the convention and/or is an unrestored survivor car and the most minor of imperfections may be overlooked in order to keep things more fair when competing with a restored car. While there is still the expectation that the car is cleaned up before the show just the same as any other car, it is expected there will inevitably be some amount of dirt in the undercarriage, possible small stone chips, belt/heat/fluid markings on the engine, etc. from either driving or decades of accumulation on a survivor. Expectations for restored trailered cars are generally higher as the car has theoretically had every nut and bolt apart and the owner had the opportunity to restore every item back to original condition.
For judging, cars will need to have windows and tops (if convertible) up and any interior or trunk items removed in order for the judges to properly assess condition and correctness. Additionally, doors, hood, and trunk will need to be opened. Owners may wish to stay with the car and do it themselves or else give permission to the appropriate judging group to do as they need. Owners may also wish to be present in case there is a question regarding a component of the car. The NDC maintains a library of materials that may be referenced by members during the restoration process or by judges at the convention, but members may also bring their own documentation to support correctness and accuracy of particular restoration components. Judging forms may be obtained after the awards ceremony.
Click on each link below to download the judging forms used:
Not Judged
Many members are content just to display their car and do not wish to compete for a trophy. For these cars, none of the above judging forms or guidelines are needed, but show field requirements (member status, fire extinguisher, driveable vehicle) still apply.
Diamond in the Rough
For any car, judged or not, owners have their car entered to win the Diamond in the Rough award. This award is determined by random draw and is sponsored by club member Lee Exline. Cars for this category display excessive patina, rust, wear, damage, etc, but are recognized as still being on the road and enjoyed by their owners that brought them to the convention. Owners with cars fitting this criteria will be asked at the convention if they would like to have their car entered to win this award. Winners of this award receive a weathered cup trophy containing various cleaning products and tools intended to help the owner in improving their car.
Winner's Circle
DeSotos may be placed in this class if they have won within the previous 3 years, either an NDC Best of Show, an NDC Best of Class, or an AACA Jr. National or higher. Owners will need to show proof of one of these awards to enter into this class. Winner's Circle is a non-judged class; a recognition award will be presented at the awards ceremony.
Still have questions? Contact Bill Noble at nobledesoto@ameritech.net